PVB - Polyvinyl Butyral Post Consumer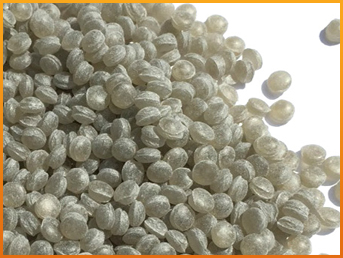 PVB is used mainly used in the manufacture of laminated glass: car windscreen, windows, etc ... p>
Hainaut Plast Industry has developed an innovative process for the recycling of material from this origin. This new secondary raw material that can be classified in the thermoplastic elastomeric family it has very interesting physical and mechanical properties for many sectors of the plastics industry.

Among these qualities :
Tenacity
Flexibility
Polarity
Neutral color
Easy processability ( injection, extrusion, thermoformage, etc)
This new secondary raw material can be used to :
Elastomer
Impact modifier for homo Polypropyléne
Compound with PVC (phthalate plasticizer free)
Binding agent for materials (metallic, inorganic, organic, magnetic)
Binding agent for textiles
Heavy layer
Hot melt
Coatings
Adhesives
Etc...
HAINAUT PLASTIC INDUSTRY PRODUCT RANGE OF PVB RECYCLE FOR DIFFERENT APPLICATIONS
B0 : PVB POST CONSUMER
BC30 : COMPOUND PVB CARBONATE OF CALCIUM
BB : COMPOUND PVB BARYTE
BPP5 : PVB POLYPROPYLENE COMPATIBILITY
BPP20 : COMPOUND PVB POLYPROPYLENE